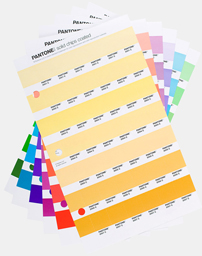 PANTONE Solid Chips Coated Replacement Pages 2019
Available for all 2678 Pantone spot and specialty spot colors, Chip Books Replacement Pages provide an affortable way to replenish the colors you use most.

- Three-ring binder-style pages
- Available as perforated, removable paper chips, sold by individual page
- Each page provides seven Pantone colors with six individual chips per color

IMPORTANT: Theses pages are for the books published from 2015 to current.

Please type in the page number after SCRPA. Example: Page 100 = SCRPA100.